Financial Scrutiny and Oversight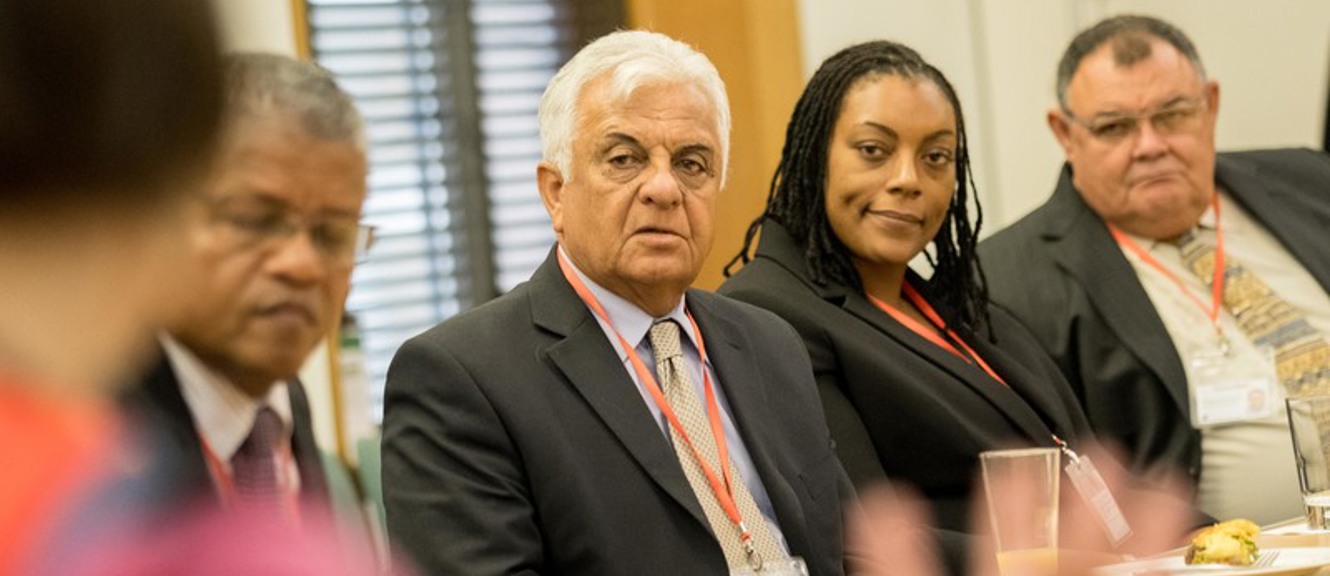 Parliaments have a role in scrutinising the work of the government, particularly through Select Committees.

Public Accounts Committees scrutinise the financial expenditure of the government and taxpayers money, ensuring transparency and accountability within the Government, and making recommendations to ensure taxpayer's receive best value for money on Government spending. Working with oversight committees such as Public Accounts Committees is one of the key ways CPA UK supports financial scrutiny, ensuring Members have the technical expertise and knowledge to hold Governments to Account on behalf of their citizens. 
---
The UK Overseas Territories Project is a three-year programme of support for public financial management. CPA UK, in consortium with the UK National Audit Office (NAO) and the UK Government Internal Audit Agency (GIAA) works with partners in the UK and Overseas Territories to deliver a series of activities focused on providing technical assistance, training and mentoring to support and encourage effective public financial management. 
Read more here.
---
Commonwealth Association of Public Accounts Committees
In June 2014, Chairs and Members of Public Accounts and equivalent Committees of Commonwealth parliaments attending the 4th Westminster Workshop on Parliamentary Financial Scrutiny of Public Expenditure at Westminster constituted the Commonwealth Association of Public Accounts Committees (CAPAC). An informal steering committee was formed to guide CAPAC's work in the short term, with Hon. Senator Raziah Ahmed (Trinidad & Tobago) and Hon. Tonio Fenech MP (Malta), as co-chairs. CPA UK committed to providing coordination to the nascent Association's activities in the interim period.
CAPAC is designed to support the work of Commonwealth Public Accounts Committees in promoting good governance, implementing the declaration on these committees contained in the communiqué of the November 2013 Commonwealth Heads of Government Meeting: 'Heads of Government further reaffirmed that strong and independent Parliamentary oversight plays an important role in preserving the trust of citizens in the integrity of government, through Public Accounts Committees that are effective, independent and transparent.'
Other related programmes
Westminster Workshop on Public Accounts Committees – Westminster, 4-6 December 2017
CPA UK's series of capacity building Westminster Workshops have explored the role of parliamentarians and parliamentary Public Accounts Committees (PACs) in financial oversight, providing practical training and knowledge to Commonwealth PACs. The 2017 Westminster Workshop aimed to further the role of parliamentarians in the promotion of tax transparency and the prevention of tax avoidance.
Global Tax & Transparency Summit - Westminster, December 2016
Organised in partnership with the UK PAC, the Summit brought together parliamentarians to highlight the importance in tackling tax avoidance and promoting tax transparency.
Westminster Workshop: Parliamentary Financial Oversight of Aid Effectiveness - Westminster, July 2017
This workshop sought to discuss the changing landscape of aid architecture and strengthen the knowledge and skills of parliamentarians and parliamentary officials in conducting effective financial oversight of aid flows. Ahead of the Second High Level Meeting of the Global Partnership for Effective Development Cooperation, the 6th Westminster Workshop sought to strengthen the voices of parliaments in becoming an integral stakeholder in aid management.
5th Westminster Workshop: Effective, Independent and Transparent Public Accounts Committees for Robust Public Financial Oversight, Valetta, 1-4 June 2015
Building on the success of previous workshops, the 2015 5th Westminster Workshop, run in partnership with the Parliament of Malta, continued to provide a forum for exploring the key current challenges faced by PACs across the Commonwealth, enabling the exchange of ideas and expertise on how PACs can increase their efficiency and effectiveness in scrutinising public expenditure; from budgeting and planning to tracking performance.