Gambia & UK parliamentarians discuss empowering female voices during committee study visit to Westminster
Published 26 April 2023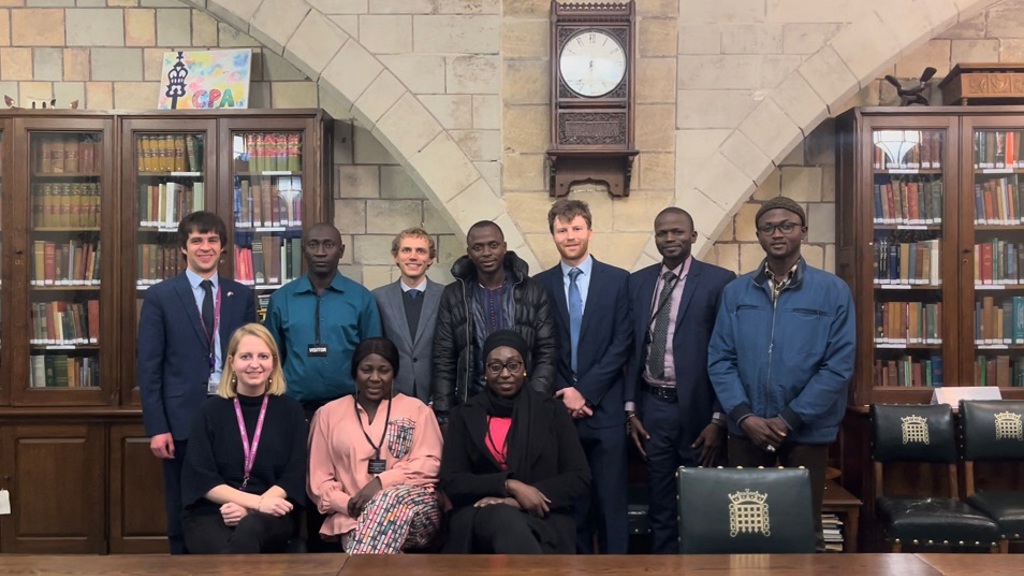 Women's representation was at the heart of conversation during a four-day visit to the UK Parliament from a delegation from the National Assembly of the Gambia.  
The visit took place from 16-19 January and was attended by five members of the National Assembly, including the Chair of the newly formed Gender, Children, and Social Welfare Committee, Hon. Fatoumatta Njai, and the Chair of the Health, Refugees, Disaster and Humanitarian Relief Committee, Hon. Amadou Camara. The delegation was also accompanied by a National Assembly clerk.  
The programme provided a forum for UK and Gambian Parliamentarians to discuss their experiences of conducting committee scrutiny and working to bolster women's representation. Progress in achieving a greater gender balance within the National Assembly has stalled in recent years, with only five female members currently serving out of a total of 58, down one from prior to the 2022 assembly elections.    
National Assembly Members (NAMs) recently tabled legislation that would have enlarged the assembly and reserved newly created seats for women. This bill was abandoned due to a lack of time in the assembly timetable, but may be brought back for consideration in the current parliamentary term.  
Dialogue between the delegates and UK Parliamentarians and officials acknowledged the value of 'positive discrimination' measures such as reserved seats or all-women shortlists (as utilised by some political parties in the UK) to increasing the number of female lawmakers. At the same time, it was also recognised that deeper societal problems inhibiting women's opportunities to become lawmakers must be addressed if they are to be elected and contribute to their legislatures.  
Gambian delegates noted the higher level of school drop-outs among girls in their country as an example of this. The fostering of an inclusive working environment was cited as an ongoing challenge for the UK Parliament, with the introduction of child friendly sitting hours highlighted as an important step forward in this respect, and the enforcement of stricter rules around harassment cited as an area where further progress is needed.  
Hon. Njai subsequently had the chance to discuss these issues in a meeting with the Rt Hon. Harriet Harman MP, who has been prominent in efforts to enhance women's representation at Westminster over the past four decades. 
The visit also gave delegates the chance to connect with parliamentarians and officials from the UK and the wider Commonwealth, both during formal panel sessions, and by attending a joint lunch with a delegation from the Parliament of Canada that CPA UK was also hosting in Westminster that same week.  
This programme was the latest in a series of engagements delivered under the Memorandum of Understanding between the National Assembly, CPA UK, and the Westminster Foundation of Democracy, which was renewed at a Post-Election Seminar held in Banjul in June 2022.  
A full report on the Study Visit is available here.