Climate Forum Report - Climate Justice Approach
Throughout the Forums, it was widely recognised that climate injustice is faced globally, nationally, and locally. Professor Tahseen Jafry, Director of the Centre for Climate Justice, honed in on the stark environmental inequality that exists internationally. She asserted that countries with the highest emissions have benefitted economically from industrialisation. Whilst nations in the global south, who have contributed the least to emissions, are already facing the brutal impacts of climate change. Vulnerability, insecurity, destabilisation and increased social and economic inequality caused by climate change, is already triggering mass displacement from vulnerable areas. Professor Jafry shared with delegates the devastating projection from the Institute for Economics & Peace Ecological Threat Register 2020 report, that by the end of 2050, 1.2 billion people are predicted to have been displaced due to weather events. Delegates were reminded that climate justice is also about peace and security, as the impacts of climate change lay the foundations for other social problems, such as conflict over resources, gendered violence and trafficking, wars and loss of identity. Professor Jim Skea, Co-Chair of Working Group III of the Intergovernmental Panel on Climate Change, considered how inequality within countries has also exacerbated the impacts of climate change. In Scotland, low-income households have been disproportionately impacted by the price increase of electricity in the transition to green energy. Throughout the discussion, Ms Sophie Howe, Future Generations Commissioner for Wales, reinforced how climate change causes intergenerational inequality. Impacts of the climate and ecological emergency are currently number 1, 2, and 3 on the global risk register, yet they are not being treated with the urgency that they deserve.  
Climate justice, a framework founded by people of colour in the US, advocates for finding solutions to climate change rooted in human rights, justice and equality. Ms Howe stated that climate justice finds "solutions which give multiple wins". Professor Jafry supported this, arguing that climate justice is a framework which "leaves no one behind". Professor Jafry laid out four pillars, through which this intersectional approach to climate justice could be achieved: procedural, distributive, intergenerational, and restorative justice. Professor Skea also provided a framework for thinking about a just transition, putting importance on clear and long-term planning, engagement of citizens who will be most affected, and equity, fairness and justice in all policies. Parliamentarians from the audience asked panellists how to incorporate young activists in policy making. Ms Howe, as Future Generations Commissioner for Wales, described how the Well Being and Future Generations Act of 2015 meant that public institutions were forced into thinking about the long-term impact of decisions. Following this Act, Wales has lowered the voting age to 16, created a national youth parliament, and set up a reverse mentoring scheme with young people and leaders in Welsh public services. 
Examples of policies which apply a climate justice framework: 
Creation of well paid, secure jobs in the renewable industries
Reskilling and upskilling workers in fossil fuel industries
Providing education at all stages on sustainable ways of living
Investing in public and active transports rather than electric vehicles
Giving marginalised voices a space in policy making decisions
Access to finance for those most impacted by climate change
Although climate justice provides an overarching policy paradigm, Professor Skea emphasised the importance that any just transition must be country and region specific. Taking the example of land reform, a just transition has meant distributing ownership and the transfer of land from agricultural use into tree planting. In a developing country context, however, with a high reliance on agriculture, a just transition can combine agricultural needs with development needs, by diversifying land and providing economic incentives to sustainable farming.  
Finally, considering climate justice on an international scale, Professor Skea directed delegates to the Just Transition Declaration, which was created at COP24. Panellists agreed that countries with the highest emissions must take a leadership role in reducing them. Darren Jones MP urged wealthier economies to allocate the 100 billion USD of promised climate aid to help more vulnerable countries to reach their climate targets. Finance must be distributed equitably to also support adaptation and resilience in communities already being impacted. Ms Howe encouraged delegates to push for global governance systems which think of the holistic impacts of policy and act in the interests of future generations.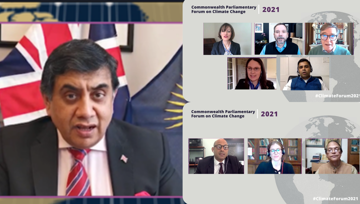 Building a Network of Key Representatives
Fiona Clouder, COP26 Regional Ambassador to Latin America & Caribbean, and Sir Nicholas Peter Kay KCMG COP26 Regional Ambassador to Sub Saharan Africa joined delegates on regional roundtables to provide information on available networks in the lead up to COP26. The Regional Ambassadors explained that their role is to talk to diverse groups of people, including governments, wider society, and parliamentarians, to prepare them for COP26. The Regional Ambassadors then emphasised the critical role of parliamentarians at COP26. Ms Clouder stated, "your influence, expertise and insight are invaluable. You are the people above all others that can mobilise action".  
Both roundtable discussions considered the role of accessible finance in contributing to the success of COP26. Sir Nicholas stated that one of his main priorities going into COP26 was that the world provides more finance to Africa. He stated that, from 2016, out of $460 billion USD spent on climate related work, only $12 billion USD went to Africa, despite it being the continent most affected by increased temperatures, flooding, weather events and locusts. Ms Clouder reiterated that there are insufficient funds available to Commonwealth countries and pledged to work to get donor countries to act on their commitments, as well as lobbying multilateral organisations and development banks. Both Ms Clouder and Sir Nicholas signposted the available resources, such as the Green Climate Fund, but argued that this finance needs to be made more accessible. Countries find it difficult to get their project approved through this fund, and Sir Nicholas called for more technical assistance and streamlining of the process. Ms Clouder looked at the ways in which current funds could be mobilized, including funds for nature, incorporating environmental risk into private sector investment portfolios, and a green recovery from the economic impacts of COVID-19. 
Matching Ambition with Delivery
Designing a collective and coordinated response for the roadmap to COP26, delegates identified the significance of building partnerships with five categories of key climate influencers:  
Regional Influencers

 

(

e.g. m

inisters, 

national and subnational parliamentarians, 

private 

business owners

)

 

COP26 influencers

 

(e.g

.

 regional and national COP26 representatives)

 

Youth Climate Activists

 (

e.g. y

outh 

parliamentarians

, 

volunteers, schools and universities)

 

Citizens

 

Established Climate 

Action 

Groups

 

(

e.g. 

250 Pathways Platform

,

 

Carbon Neut

rality Coalition

,

 

The Mission Possible Partnership

, 

Commonwealth Clean Ocean Alliance

)

.

 
Once established, delegates are encouraged to meet and learn from their key influencers in the lead-up to COP26. This will enhance the global reach and enable delegates to focus attention on the five key themes that were identified at the Forums: emergency, adaptation, justice, unite and action. 
'Acknowledgement that this is a global emergency -
We must implement creative and holistic adaptation for global climate justice.
It is time for the Commonwealth to unite to forge action.'
CEO of BeSpoke Skills, Ms Faragher facilitated activities to build a key message, informed by these themes, for Commonwealth parliamentarians to take forward on the road to COP26 and beyond. Delegates expanded upon the potential barriers to success that could be faced when implementing action on climate change. These included: lack of finance, ministries working in silos, failing to consider all voices in the Commonwealth community and being paralysed by the complexity of issues faced. Representation at the decision-making table was central to the Forums discussions. Participants considered ways in which the Commonwealth can centre minority and marginalised voices in their ambitions for COP26. Through productive discussions, delegates found the central message for positive climate action within the Commonwealth is collaboration, shared responsibility and shared information. Ms Faragher emphasised the importance of generating an emotive and catchy Commonwealth-wide hashtag to support citizen engagement and utilise the power of social media. Many suggestions were brainstormed and the most popular idea was to incorporate Common from Commonwealth e.g., #CommonGlobe #CommonSustainability #CommonAction. This united action was supported by the development of a 'Timeline of Action for the lead up to COP26.' The collaborative example from the Forum has been provided however, participants are encouraged to develop their own with specific targets, pledges and goals embedded.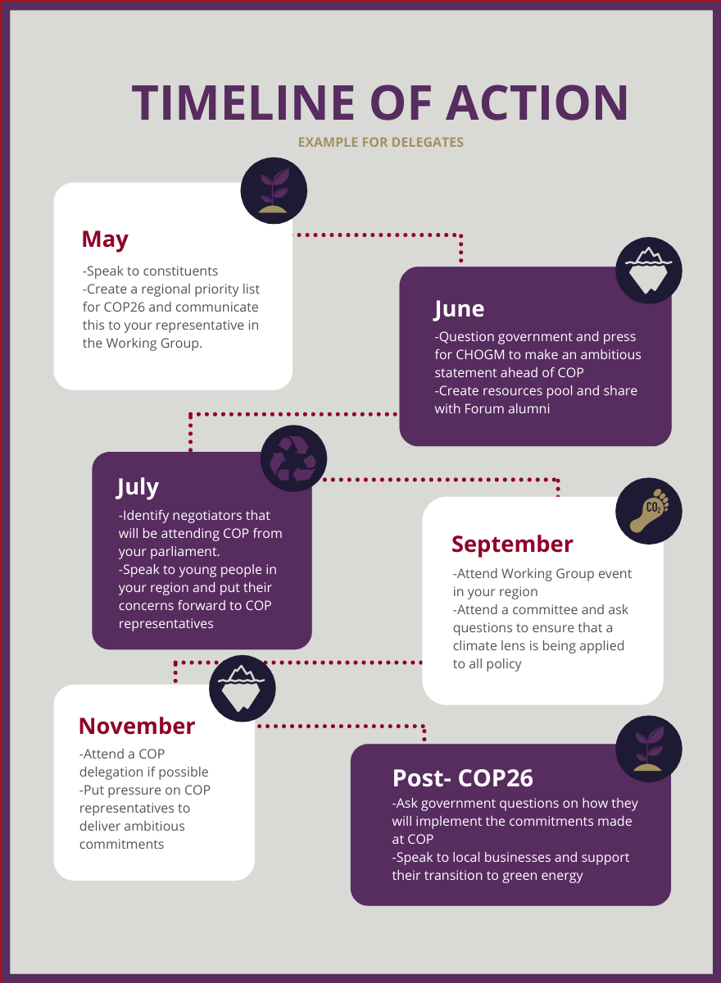 Conclusion
 and Next Steps
Building upon the learning from the Forums, two working groups have been elected to represent and advocate for collective Commonwealth priorities in the lead up to COP26: a Pacific Focused Working Group and a pan-Commonwealth working Group. Members of the Working Groups will listen to their region and represent these interests, as well as reporting back on learning from the Working Group activities to their region 
Regional Representative for pan-Commonwealth Working Group 
Representatives:    
AFRICA: 

Dr Laetitia Nyinawamwiza, Senate of Rwanda

 

AMERICAS and CARIBBEAN: 

Yasmin Ratansi MP, House of Commons of Canada

 

ASIA: 

Tanvir Shakil Joy MP, National Parliament of Bangladesh

 

EUROPE: 

Deputy Robert Ward, States Assembly, Jersey

 

PACIFIC: 

Hon. Ralph Reganvanu MP, Leader of the Opposition of Vanuatu

;

 Hon. Pinto Katia MP, Chairman of the Opposition of Kiribati

 

YOUTH: 

Miss Victoria Akintaju, Nigeria, Commonwealth Youth Climate Change Network

;

 

Ms Kervelle Baird, Trinidad and Tobago

, 

Commonwealth Youth Climate Change Network.  

 
Co-Chairs of Pacific Focused Working Group:   
Kiribati: Hon Pinto Katia MP, Minister for Commerce, Industry and Cooperative 

 

Vanuatu: Hon Ralph Regenvanu MP, Leader of Opposition

 
Members of the Pacific Focused Working Group:
Victoria - Australia: Mr Frank McGuire
ACT - Australia: Ms Elizabeth Lee
New Zealand: Rachel Brooking MP 
Fiji: Hon Biman Prasad
The group will draw on the action points raised at the Commonwealth Parliamentary Forums on Climate Change and seek to deliver tangible outcomes from these discussions. Following the enthusiasm of Forum delegates CPA UK has created a list of key learning and action points for parliamentarians in the list below: