Transforming parliamentary outreach in Cape Town and Westminster
Published 19 February 2021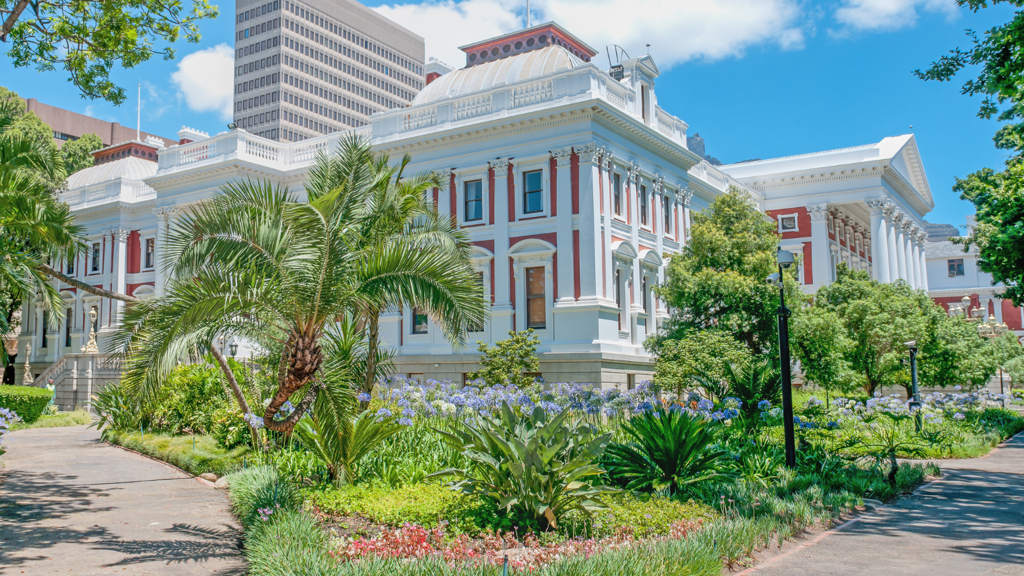 On 15 February 2021, parliamentary officials from the UK and South Africa participated in a virtual session facilitated by CPA UK and the Core Business Support (CBS) Division at the Parliament of the Republic of South Africa to discuss approaches to public information, outreach, and engagement. The event forms part of a series of exchanges between clerks and staff to share experience and learning to the mutual benefit of both Parliaments. The below is a summary of discussions on 15 February. 
Public engagement and outreach
In any jurisdiction, members of the public interact with parliament better if they understand its functions and are aware of the opportunities available to engage with parliamentary business. In South Africa, public access and involvement in Parliament is even constitutionally mandated. From facilitating visits to Parliament to liaising with media outlets or employing social media to inform and solicit feedback, communications and engagement teams in Cape Town and Westminster work diligently to continue bringing Parliament closer to a growing audience. The coronavirus pandemic has complicated these efforts: the introduction of virtual proceedings and bans on public gatherings made many traditional information offerings impossible and necessitated a rethink on effective public outreach.
For the Parliament of South Africa, the Public Education Office and Parliamentary Democracy Offices lead on public outreach, while the Public Information and Resources, External Affairs and Engagement, and other teams deliver similarly for both Houses of the UK Parliament. Situated in rural provinces, Parliamentary Democracy Offices offer an accessible port of call for information and education for those further away from the seat of Parliament in Cape Town. Most importantly, the Offices enable consistent and continuous contact with members of the public by providing information, empowerment programmes, and a platform to participate in parliamentary business.
Similar public information and outreach programmes are delivered by the UK Parliament in person and virtually; the House of Commons, for example, runs an "Ambassador Network" of passionate UK Parliament staff who deliver talks to audiences across the UK. In the House of Lords, an existing programme connecting peers (Members of the House of Lords) and pupils through school visits was adapted post-lockdown to facilitate virtual visits. The new digital-first strategy not only enabled the programme to continue, but also increased opportunities and equal access. Virtual visits required less time and fewer logistical arrangements and broadened the list of benefitting schools – using video calls, the number of peers participating in virtual visits quadrupled after March. With most schools facing repeated closures from March onwards, outreach and engagement officers were able to provide additional support to schools for pupils with special educational needs (SEN) which remained open. Since then, the UK Parliament's existing online offering has expanded to accommodate remote learning through online workshops and live events with parliamentarians, bookable via the Learning page of the UK Parliament's website.
Research and targeted outreach
In addition to delivering engagement programmes, qualitative research into perceptions of the UK Parliament and its key audiences helps direct and target outreach activities where they are most needed. In the UK, the least engaged demographic groups are young persons, persons with a disability, or persons of colour (POC). One approach to reaching these groups is by collaborating with other organisations that represent or work with them, for example through shared events. Before coronavirus restrictions, shadowing days which enabled young persons to accompany a Member of Parliament in their day's work proved successful and popular.
In South Africa, young persons (those aged 15-24) are also less engaged with Parliament, and the cost of data is an obstacle to accessing online information and resources. Creating a data-free website is one innovative solution Parliament is working on to remove this barrier to participation. In line with its vision to be "an activist and responsive people's Parliament", the South African Parliament undertakes regular reviews of its strategy and outreach activities and solicits feedback from external stakeholders. According to senior staff, the time and effort dedicated to building strong working relationships with key stakeholders presents a key advantage in delivering successful engagement programmes.
Accessing Parliament
Visiting either Parliament in person has not been possible since they first locked down in March 2020, but both are working on expanding online alternatives. A 360° virtual tour and clips of guided tours of the UK Parliament, for example, are available via the UK Parliament website. Critically, without physical access to public galleries and committee rooms, ensuring continued public access to parliamentary proceedings presented new challenges for broadcasting teams and IT experts in Westminster and Cape Town. The South African Parliament has provided guidance on broadcasting issues to other legislatures in the region; it offers two live streaming channels and also makes podcasts of all sittings available to listen to and download. While all UK proceedings were already available to stream live at Parliament.tv before coronavirus restrictions came into force, staff grappled with the challenge of ensuring virtual committee hearings were both cybersecure and accessible. Arrangements in both Parliaments were adapted once more when hybrid proceedings were first introduced between April and October.
In 2021 audiences in both the UK and South Africa valued television and social media to stay informed about Parliament, with radio also ranking highly for listeners in South Africa. Both Parliaments are well represented on key social media channels including Twitter and Facebook and use these platforms to inform followers of upcoming or recent parliamentary business. For external outputs, communications professionals at the South African Parliament enable their stakeholders to actively shape their outputs and content creation. On the recommendation of a prominent children's fund, for example, staff canvassed their regional ambassadors for a project to produce promotional videos showcasing organisations working with children.
Working under the 'new normal'
In addition to the many changes to Parliament's ways of working staff had to quickly adapt to working from home where the usual amenities of an office environment, from essential hardware to stable internet connections, may not be available. Usually busy key moments in the parliamentary calendar, such as preparations for the State of the Nation Address in South Africa, required intense work and long hours.
The changed working conditions have, however, also brought some benefits. Some staff members in the UK Parliament have found colleagues more accessible and reachable after the introduction of Microsoft Teams made ad hoc video calls easier to arrange than scheduling in-person meetings. Virtual and hybrid proceedings, introduced to accommodate lockdowns and social distancing requirements, accelerated the uptake of technological solutions and tools, facilitating more efficient internal communication with staff and parliamentarians. The resulting dramatic decrease in printing has also had a positive environmental impact.
To inform staff, internal communications teams at both Houses of the UK Parliament collaborate on creating and collating videos and other information materials. A Covid-19 email bulletin and online hub continue to provide all essential information in one place, including guidelines on access, mask wearing, and coronavirus testing. These information channels proved particularly helpful during transitions to virtual or hybrid proceedings.
Across all aspects of parliamentary outreach and public engagement staff and parliamentarians in Westminster and Cape Town adapted quickly and efficiently to the manifold new challenges brought on by the Covid-19 pandemic and associated restrictions. Both offer guidance to other Commonwealth parliaments undergoing similar changes, continue to review their strategies and activities based on stakeholder feedback, and recommend strong stakeholder management to ensure public engagement programmes remain relevant and effective.
CPA UK would like to thank all participants for their time and contributions. This event forms part of a continued partnership between the UK and South African Parliaments to share learning and good practice across a range of topics in parliamentary administration and communications. For other CPA UK engagements with South Africa please click here. 
Key contributors from the Parliament of South Africa:
J. Thomas

– 

Unit Manager, Public Education Office (PEO)
Safia Isaacs

– 

Public Education Specialist
S. Montsho

– 

Section Manager, Parliamentary Communications Services Division
M. Wolela

– 

Section Manager
Winnie Seoposa

– 

Parliamentary Democracy Office
Facilitator: Adv. Mongana Tau, Unit Manager
Key contributors from the UK Parliament:
Alasdair Rendall – Head of Media Relations (House of Commons)
Ciaran Norris – Head of External Affairs and Engagement (House of Lords)
Sarah Kears-Burke – Head of Internal Communications (House of Lords)
Lucy Greaves

– 

Senior Internal Communications Officer (House of Lords)
Clare Bamberger – Head of Insight, Governance Office (House of Commons)
Facilitator: Felicity Herrmann, Africa Regional Programme Manager, CPA UK