Botswana - CPA UK Delegation to Botswana
Published 27 February 2020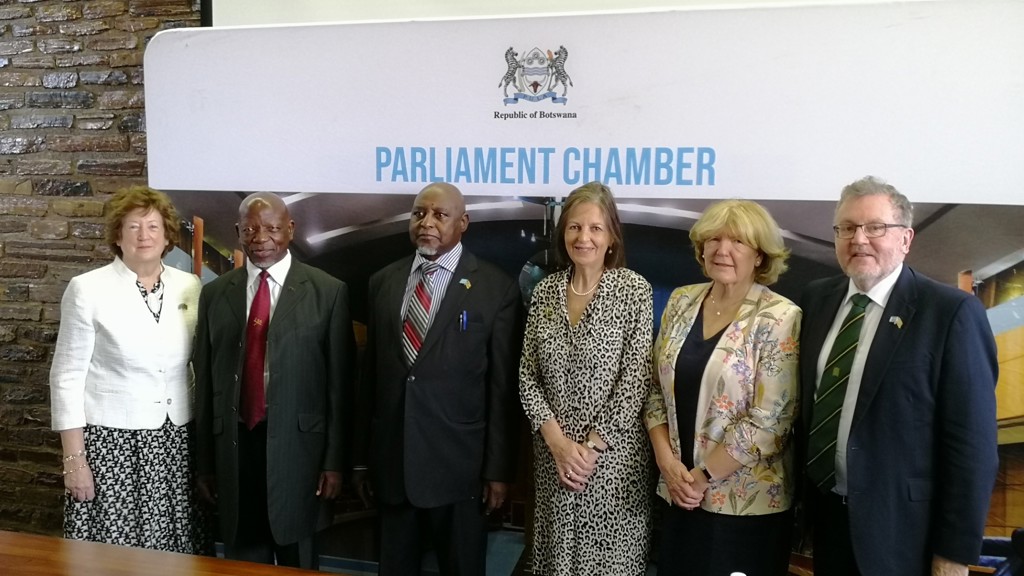 ---
A CPA UK delegation visited Botswana from 17-21 February to engage with their counterparts in the National Assembly as well as wider civil society in Botswana. Across their programme the delegation discussed a range of issues with their counterparts in Botswana, including the effectiveness of parliamentary oversight, economic diversification, women's representation and approaches to wildlife conservation.
Following the recent elections in Botswana, over 80% of the MPs elected are new to the National Assembly. The delegation heard about the challenges this creates and the work the Assembly has undertaken to provide sufficient induction to new Members. The role of committees in scrutinising the government was also explored; Botswana has a well-established committee system but with only thirty or so backbench Members most MPs sit on a number of committees, limiting the time they can dedicate and expertise they can build in policy areas. The delegation shared their experiences of chairing and serving on committees. CPA UK looks forward to welcoming the Chair of the Public Accounts Committee in Botswana to the CAPAC Pan-Commonwealth Workshop in March.
The Hon. Speaker of the National Assembly warmly welcomed the delegation and when discussion turned to women's representation he acknowledged the very low proportion (11%) of women in the Assembly. The Speaker mentioned his determination to improve women's representation but spoke of the work that needs to be done, in Parliament and the country at large, in order to do so.
---
Botswana is focused on diversifying their economy away from relying on extractive industries and tourism. The delegation heard from the Botswana Meat Commission how it is trying to upscale its agriculture production - the country's largest employer. The Finance, Trade and Economic Development Committee also spoke about how Botswana is mainstreaming the UN SDGs to diversify its economy. These discussions reflected the regional view as developed by SADC, which has its Secretariat in Gaborone. SADC has a focus of industrialising its member states but this primarily refers to agriculture and agroprocessing rather than heavy industry.
Botswana's approach to wildlife conservation also generated substantial discussion. Botswana's reintroduction of elephant hunting attracted international criticism but they defended the policy as one that is community focused and defends the economic and security interests of Botswana's people. The proceeds from hunting licenses go to community development trusts, contributing to socioeconomic development in rural communities.
Further information on the visit will be available in CPA UK's visit report.