Sri Lanka MP, Dr Seetha Arambepola, discusses violence against women and girls in conflict zones and the role of the Commonwealth
Published 23 November 2022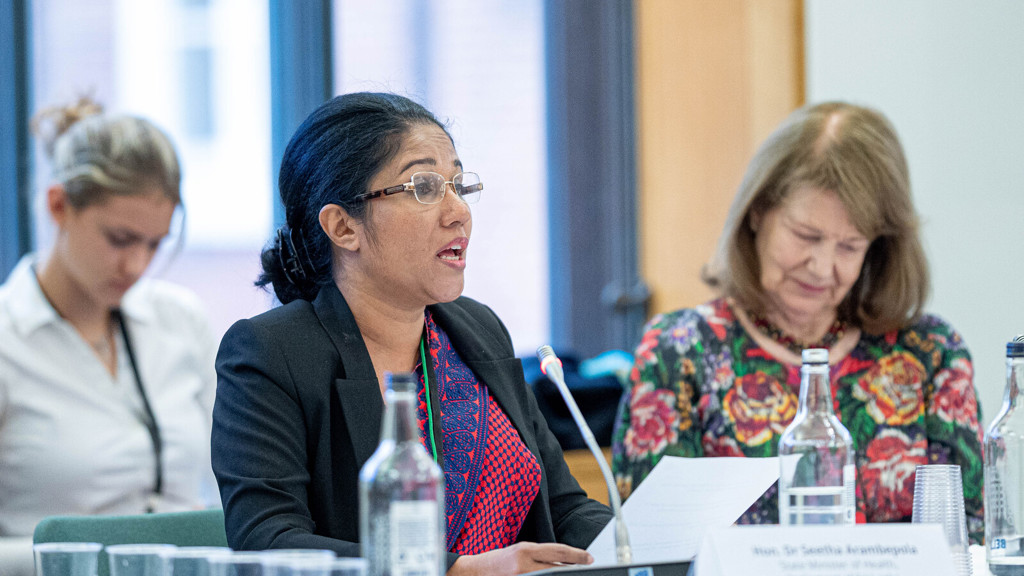 Dr Seetha Arambepola is an ENT Surgeon, Member of Parliament and State Minister of Health in Sri Lanka. She is also an advocate on issues relating to violence against women and girls in conflict and recently participated in CPA UK's Conference on National Security in Westminster. She has written for CPA UK about gender-based violence in warzones, the impact of COVID-19 and the role of the Commonwealth.
---
There has been an increased tendency towards high risks for sovereign nations getting caught in conflicts that wrecks the social fabric leading to civil wars and armed conflicts threatening global peace and security. Research findings prove that civil wars have accumulated and intensified a significant part of global poverty as some nations are prone to conflicts for years. There is an equal concern and frustration that getting back to pre COVID-19 globalization is undermined due to reverberation from global pandemic, prolonged Russian-Ukrainian war, increased number of refugees and migration from crisis trapped countries, human and drugs trafficking, hostile competitiveness among regional super powers, domestic divisions, vulnerabilities and climate crisis.
COVID hit nations and in particular developing nations are also compelled to adopt stabilization and structural reforms including debt restructuring which involves huge social cost and resistance. No one predicts with any certainty the variation in economic cycles ahead as the world is struggling with numerous challenges threatening global security. The importance of global conference was really understood by attending CPA UK's National Security Conference held in the UK Parliament .
This paper briefly addresses such risks and role of stakeholders in particular the legislators getting involved in the efforts to end violence against women and girls in conflicts associated with such complex environment to prevent security threats for sovereign nations to progress with stability and diversity.
The global community is going through a turbulent time which is comparable only to the 1930 Great Depression which spread over 10 years contracting global GDP by 27 percent and peak unemployment reaching 25 percent in 1933. Disturbingly the COVID-19 hit world is a complex one as it has put many developing and emerging economies along with some established advanced countries on a reverse gear of progress achieved with globalization since 1980's.
The COVID-19 pandemic brought about a de-globalization process due to pandemic preventive restrictions. Each country left with its own option to protect people and society from this global health risks. Sharp fall in external trade and investments, tourism, overseas employment, business and financial markets have dislocated socio-economic life resulting in unemployment, currency crisis and inflation.
As the pandemic came in several waves making it a prolonged communicable health crisis, several countries including Sri Lanka have been confronted with increased vulnerabilities due to rapid depletion of foreign assets and sharp rise in public spending though few developing nations like Sri Lanka have been able to undertake all-inclusive vaccination programs to create a COVID resilient societies with least number of casualties. The preventive actions to prioritize public health by many nations caused economic fallout in some small open economies like Sri Lanka which has relied increasingly on commercial debt financing strategies to supplement their external and internal financing avenues such as exports, tourism and foreign investments prior to COVID-19 pandemic.
There have been widespread increase in absolute poverty, malnutrition and unemployment consequent to such economic fallout. Rising health risks and supply lags in food, energy and medicines have become order of the day. Misinformation, organized crimes and extremism have raised their ugly heads leading to a polarized social order. While poor and low-income people have lost hopes, the collapse of income among middle income groups along with growing social unrest are reported all over the world placing many policy makers in desperate moods. These outcomes nurture conflicts and threaten democracy, its governance structure and human rights.
In the midst of the COVID-19 pandemic cycles itself, evidence have surfaced that there has been an increase in the reported cases of sexual and gender-based violence due to COVID-19 preventive measures. Indeed, domestic violence is considered to be within private domain and shrouded in secrecy. Impact on children who grow up in such family setting tend to cause behavioural disorders. Social and economic costs of gender violation are even multifaceted and cause ripple effects throughout the society weakening the participation of women in labour force and social activities.
The world has seen the birth of the 8 billionth person this month. It must also be recognized that the female population is estimated at 3.91 billion making gender ratio almost equal. However, this may be only in statistics. World over violence against women and girls has become the most prevalent human rights violation. Estimates indicates that one in three women experience physical or sexual abuse in her lifetime. Countries like Sri Lanka, which ranks well in Human Development Index, also lag behind in terms of gender equality. This undermines health, dignity and security. Yet it remains wrapped in silence. It is indeed a wake-up call as all these are threats to inclusive social and human resources development which Sri Lanka has performed so well in, under difficult circumstances; such as a 30 years long armed conflict, the 2004 Tsunami, the 2008 global financial crisis and increase vulnerability of people and agrarian resources to climate change.
---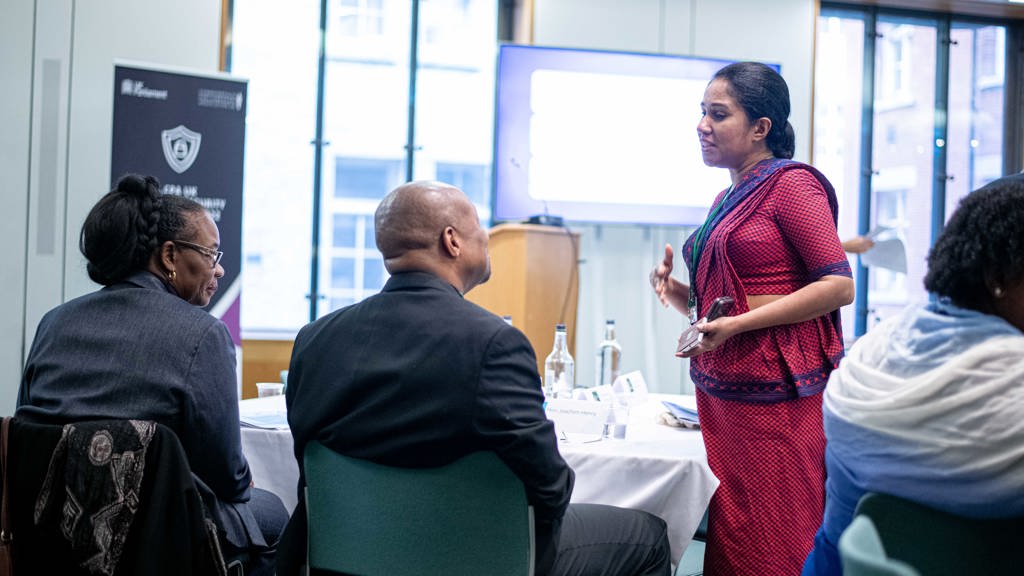 ---
The Commonwealth being committed to democracy and shared development faces a major challenge for its own existence, national security is influenced by multifaceted risks connected with gender security in the presence of global economic crisis and environment disasters. Therefore, raising awareness on the prevalence of sexual and gender-based violence must be a priority to create an institutional architecture towards equalization gender norms in a new social order. Further strengthening public institutions and broadening surveillance to address such violence must be a public policy focus while strengthening gender-focused corporate culture at the work place and uphold gender equality in corporate governance in the business world. There is an increased need to undertake legislative reforms to make mandatory legal provisions for essential services for women and girls and support their safety and access to justice.
In this context, parliamentarians can work in several ways. As parliamentarians being responsible for the formulation of legislation in support of a sustainable development within a democratic governance framework, they can go beyond their traditional oversight functions and become proactive to bring about statutory provisioning for gender equality in Public Financial Management and economic development. They can network within and with other legislative establishments elsewhere to promote a common agenda and mobilize resources including social activists, media to make a powerful voice and platform to end violence against women and girls.
Parliamentarians could also influence multilateral and bilateral funding agencies, private wealth funds and corporate world to recognize the benefits of investments in gender egalitarian development models and pursue such strategies collectively. As research in all aspects of violence against women and girls is so important input, parliamentarians could also mobilize all such agencies to work on a modern regulatory framework to create enabling environments for women and girls to become productive and dignified participants in any socio- economic activity in the society. It may be a road never taken but the future ahead for women and girls in a gender egalitarian society lies on this new path.
The road map ahead in the present context, demands urgent response to sustain COVID-19 resilience society, low carbon development strategy, innovation and modernization of agriculture, digital governance, balancing rural and urban integration, facilitation markets to work through well connected supply chains and restore financial stability. However, this road map also cannot be designed in isolation or by overlooking gender-based violence, poverty, malnutrition and suffering masses due to COVID hit economic setbacks in developing nations. Rescuing the people and their welfare demands immediate term actions. Trade-off of resource allocation between immediate term and long term must be therefore carefully balanced in the interest of democracy, social wellbeing and security of sovereign nations. Parliamentarians can work in this balancing act by aggressively giving leadership to such a consensus building process to make sure development is people centric and country owned.