Sri Lanka - Clerks discuss diversity and inclusion in gender-sensitive parliaments
Published 22 November 2019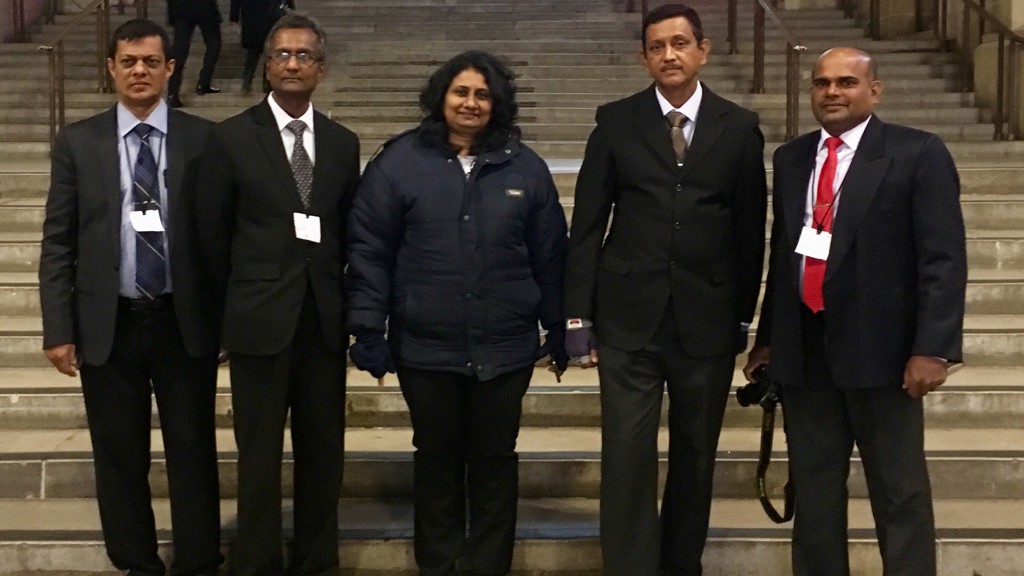 CPA UK and the Westminster Foundation for Democracy (WFD), in collaboration with the National Assembly for Wales, arranged a study visit for five clerks of the Parliament of Sri Lanka from 19-21 November 2019 as part of the Commonwealth Partnership for Democracy (CP4D). Following a visit to the National Assembly for Wales in Cardiff, CPA UK hosted the delegation at Westminster on 21 November for a programme focused on diversity and inclusion in committee work, lessons for gender-sensitive parliaments, media relations, and public outreach and engagement.
The delegation included:
Mr C. Kalansooriya, Assistant Director Administration, Committee Office
Mrs Sujeevi Gamage, Deputy Principal Officer, Committee Office
Mr A.S.P. Perera, Principal Officer, Ministerial Consultative Committee Office
Mr Nishantha Wewalwala, Principal Officer, Committee Office
Mr Kamal Udapola, Principal Officer, Bills Office
Mr Priyanga Hettiarachi, Westminster Foundation for Democracy
The Parliament of Sri Lanka faces some challenges common to many UK legislatures, such as engaging with a broad cross-section of society and managing competing demands on parliamentarians' and officials' time. Some committees in Sri Lanka find reaching a quorum of three parliamentarians in each session difficult, in part due to many members' participation in multiple committees. Committees also hope to hear evidence from more senior officials or ministers, and to grow their public outreach and consultation.
The UK Parliament uses a broad range of approaches and channels to connect with members of the public, targeting in particular those who have been less engaged with politics. Ensuring underrepresented voices are heard in Parliament, for example as witnesses for committee inquiries, leads to better scrutiny and more effective legislation, in addition to improving public trust in Parliament. Clerks and committee staff play an important role in conveying the necessity and benefits of improving diversity and inclusion in committee work. Officials can also make it easier for committee chairs and members to make the right choice by, for example, including diverse candidates in a long list of potential witnesses. Most importantly, committees need to record witnesses' details, such as gender, age, ethnic background, or other characteristics, in order to first assess and then track any improvement of diversity over time.
Seeking out witnesses who may have been disengaged or even distrustful of the political system can build trust and offer new avenues for entire communities to participate in the democratic process. Over the course of an inquiry into inequality experienced by Gypsy Roma and Traveller communities, for example, the Women and Equalities Committee team reached out to those directly affected. Over time they not only gained first-hand evidence of discrimination based on lived experience, but also built a relationship that introduced previously unheard voices to Parliament. Some of those involved in the inquiry later contributed to others, exemplifying the long-term impact of active outreach.
The reasons some groups have been less engaged are varied, but many involve accessibility. Committees can make giving evidence easier and more accessible by providing interpreters, arranging sessions in accessible rooms, scheduling sessions at a later time in the day to accommodate childcare arrangements or medical conditions, and accepting videos as evidence from those unable to travel. In addition to practical considerations, some inexperienced or vulnerable witnesses may be nervous about appearing in front of a committee. Committee staff at the UK Parliament prepare witnesses by outlining the key topics of interest or enabling witnesses to view the committee room ahead of the hearing. The UK Parliament has published a guide for witnesses giving oral or written evidence to a select committee which offers advice, guidance, and reassurance. An internal guide indicates additional provisions for minors who may need to be accompanied by a guardian or give evidence in a closed session.
Closely related to public outreach is media engagement, essential to communicate the work and role of parliamentary committees and Parliament more broadly. Regardless of the specific committee, the overarching goal of media engagement is to present the committee as a neutral arbiter and a source of expertise. Key highlights or set pieces which generate the most media interest include the launch of a new inquiry or report, the publication of government's response to a report, or evidence sessions with high-profile witnesses. Media officers in the UK Parliament draft press releases and opinion pieces and inform journalists of evidence sessions. As media officers specialise in a certain field they foster strong working relationships with similarly specialised journalists and editors. Maintaining lists of correspondents for each subject area enables easy distribution of information.
CPA UK would like to thank all speakers who contributed their expertise to this programme:
Hannah Bryce,

 

Clerk, House of Commons
Shai Jacobs,

 

Chair Liaison, Public Accounts Committee and Witness Diversity Champion, House of Commons
Estelle Currie,

 

Senior Media Officer, House of Commons
Ben Shave,

 

Senior Media Officer, House of Commons
Tara Jane Kerpens-Lee,

 

Senior Engagement Officer, House of Commons
Tansy Hutchinson,

 

Committee Specialist, Women and Equalities Committee, House of Commons
Dominique Gracia,

 

Change Manager, House of Lords
This visit forms part of the Commonwealth Partnership for Democracy (CP4D) programme in Sri Lanka delivered by the Westminster Foundation for Democracy (WFD) and CPA UK. 
Further information on CPA UK's past engagement with Sri Lanka is available here.