Parliamentarians from New Zealand & UK participate in forum on cultural diversity, inclusion & sport
Published 28 October 2021
The UK-New Zealand Forum got off to a flying start on Wednesday 27 October with a panel event led by the Rt Hon Trevor Mallard MP, Speaker of New Zealand's House of Representatives, and the Rt Hon Sir Lindsay Hoyle MP, Speaker of the UK House of Commons.
The hour-long meeting was organised jointly by CPA UK and CPA New Zealand, and focused on the themes of Cultural Diversity, Inclusion, and Sport, with a total of twelve UK and New Zealand parliamentarians in attendance.
Recent years have brought injustice towards cultural and ethnic minorities to the forefront of public debates. The world of sport has taken on an increasingly significant role in this in both countries, with New Zealand currently marking the 40th anniversary of the 'Springbok Tour' that sparked new conversations around the plight of indigenous peoples, as well as the debates around racism and sport that were especially prominent in the UK during this summer's European Football Championships.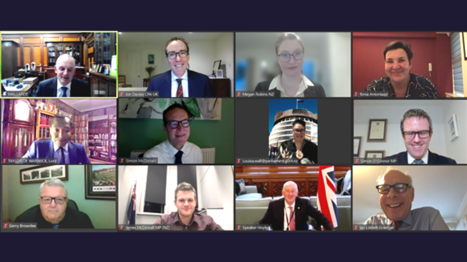 Participants discussed actions to address inequalities in sport and wider society, and reflected on the need to promote diverse and inclusive environments within their parliaments. They shared positive initiatives that had been taken to achieve this, such as the increase in remote participation opportunities in the House of Representatives giving greater flexibility to those members with young children, as well as the UK's Roots to Parliament project, which has celebrated the diverse backgrounds of those working within the Palace of Westminster. 
Parliamentarians commended both speakers for working to make their legislatures more accessible to underrepresented communities and expressed appreciation for the opportunity to reaffirm the friendship between the parliaments of New Zealand and the UK. 
The UK-New Zealand Forum builds on a longstanding history of engagement between CPA UK and CPA New Zealand. This includes a successful series of virtual meetings last year, and the visit of a UK parliamentary delegation to the New Zealand Parliament in 2018.
Four further events are planned in this series. These will focus on the themes of:
Bilateral trade and preventing modern slavery in supply chains
Security cooperation (including mutual multilateral agreements and cyber security)
Strengthening legislation to increase gender equality
Prioritising climate challenges
CPA UK will also host a private briefing for UK members with the High Commissioner to New Zealand on Tuesday 7 December.  
Please e-mail Josh Drake- drakejb@parliament.uk if you wish to attend this event or request further information.