Clerk Leadership Group Holds Inaugural Meeting
Published 29 April 2021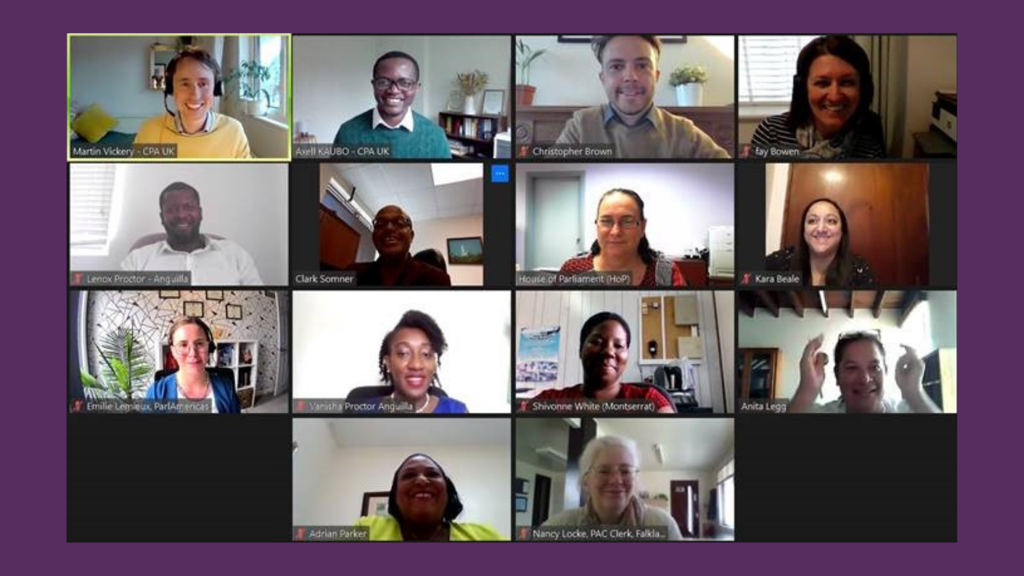 Clerks from Legislatures across the Overseas Territories (OTs) came together on 28 April 2021 for the inaugural meeting of the Clerk Leadership Group, a newly formed network designed to provide a forum for clerks to share knowledge, expertise and best practices on parliamentary clerk services in the OTs. 
The meeting was an opportunity for participants to agree on a common purpose for the network and outline terms of membership, roles, and responsibilities. Clerks shared their thoughts on the ways that the group could help with mutual challenges encountered in their roles and the themes and topics of interest that could be covered in future meetings. 
In the second part of the meeting, Fay Bowen, Clerk to the Welsh Assembly Public Accounts Committee, delivered a session on 'The Role of a Clerk', drawing on her recent experiences working for the PAC in the Senedd during the Covid-19 pandemic, sharing her insights into remote and virtual working, and discussing her role in the upcoming elections in Wales.
---
"These types of groups are good for having support. Discussions like these can really help identify and address challenges faced by PACs wherever you are and increase awareness and understanding of how these committees operate.  
Hopefully, this group will be able to facilitate that, and I'd encourage you to be open and share your common issues and experiences and never be shy about coming forward to ask for help, because together we can overcome obstacles and build a long-term relationship that will help support this as a lasting network going forward." - Fay Bowen
---
Emilie Lemieux, Deputy Director of Open Parliament and Sustainable Development at ParlAmericas, shared her reflections on parliamentary networks and highlighted some of the key opportunities discovered and challenges faced. Emilie provided an insight into how to successfully establish a network like the UKOT Clerks Leadership Group and drew upon some of the key lessons learned during her time at ParlAmericas.  
---
"We saw that it was valuable to start small and specific and to build from there, so that you can demonstrate the value of the network and foster a good level of engagement between participants. You might, for example, want to consider starting with a small project such as developing a training manual for PACs and from there build that commitment once you have a concrete result and can show the value of what the network has done." - Emilie Lemieux
---
Clerks form a central part of parliamentary staff and business and are critical to the functioning of any parliament. It is the hope of the UKOTP team, having provided initial support in establishing the Leadership Group, that ownership will be taken forward by members to ensure the sustainability of this valuable international network.