Climate Forum Report - Towards Climate Security
To begin the Forums, delegates received a key note address from Lord Ahmad of Wimbledon, Minister of State for South Asia and the Commonwealth, who delivered a powerful message of unity and action within the Commonwealth on climate change. Nigel Topping, UN High Level Climate Champion, introduced delegates to the priorities of the UK Presidency. Commonwealth parliamentarians then shared good practice as well as the challenges faced in achieving these objectives within their remit.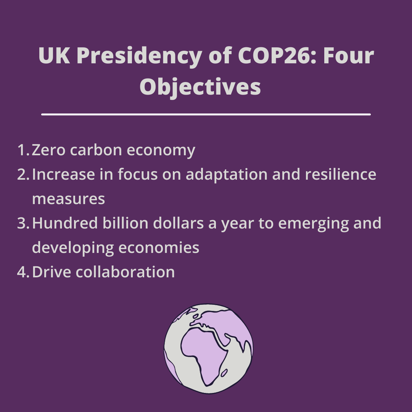 ---
Zero Carbon Economy 
Throughout the Forums, speakers recognised the vast responsibility facing advanced economies to cut their emissions. Alex Sobel MP, Chair of the UK Net Zero All Party Parliamentary Group, observed that there has been a reduction of carbon emitting activity due to COVID-19 lockdowns. At its peak, global lockdown caused a drop in emissions by 24%. However, during this period air freight and commercial shipping increased, with 76% of emissions continuing. This clearly highlights the need to transition away from fossil fuels instead of focusing on individual activity. As part of the COP26 Presidency, the UK has launched the Race to Zero, which encourages both the public and private sectors to fulfil the country's commitment to achieving a Net Zero economy before 2050. Mr. Sobel set out a ten-point plan, developed by the Net Zero APPG for how the UK government can achieve its goal. This was followed by Rebecca Sheeran, Executive Leader of the National Audit Office (NAO), as she gave an insight from the NAOs report on Achieving Net Zero regarding the five key challenges that governments face in using public spending to achieve their climate commitments: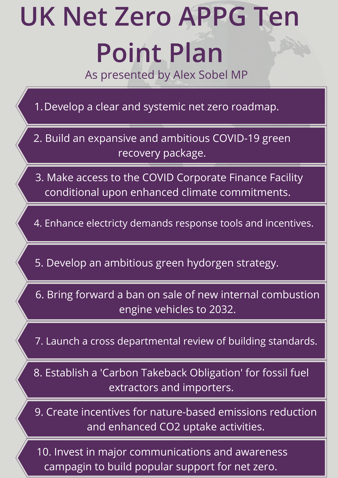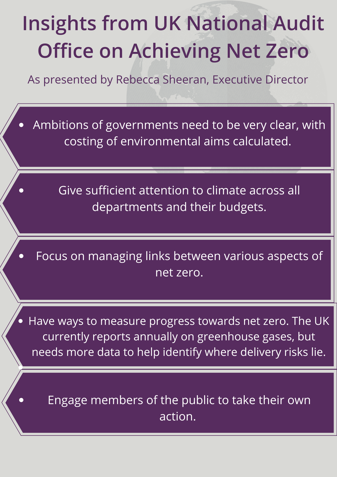 COP26 is about national governments agreeing targets. However, Sarah Boyack MSP, Scottish Labour's Campaign Cabinet Member for Environment, Climate Change and Land Reform, articulated to delegates how important local authorities are in planning and implementing transitions. Ms Boyack MSP states that high level action is achieved by shifting "day to day investment". This includes small scale transitions to hydro, wind, wave, and solar power as well as low carbon heating and reengineering communities around walking and cycling. These transitions will only be just if they are affordable, for example, through making buildings affordable to heat, creating heat networks, and supporting community energy co-operatives on a government level. 
Adaptation and Resilience 
Many states within the Commonwealth are already feeling the impacts of climate change, with vulnerable small islands and developing nations being most adversely affected. Dr Kedrick Pickering, Former Deputy Premier of the British Virgin Islands, emotively recalled the devastation caused by Hurricane Irma on the British Virgin Islands, with 80% of all homes and 90% of all boats being damaged or destroyed. Hon. Simon Stiell MP, Grenada's Minister for Climate Resilience, The Environment, Forestry, Fisheries and Disaster Management, reiterated the need for resilience to be built into the goals of COP26. He spoke about his first-hand experience of Hurricane Ivan in 2004 which caused damage valued to be in excess of 200% GDP. The lack of adaptation and resilience planning for these extreme weather events meant that in 2005, Hurricane Emily compounded the destruction and losses of the previous hurricane.  
Mr Topping, spoke about the UK launch of the Race to Resilience as part of COP26. This aims to improve the resilience of the 4 billion lives in communities most at risk to climate change impacts, such as coastal areas, cities, and small holder farms. Delegates also heard from Dr Pickering about the Caribbean Challenge Initiative which encourages elected officials in the Caribbean to support programmes of resilience. Hon. Stiell shared Grenada's approach to adaptation. Grenada has developed a national adaptation plan, a ministry of climate resilience, a Green Climate Fund which funds the climate proofing of sectors and introduced climate smart agricultural practices.  
Throughout the Forums, delegates heard focused case studies from across the Commonwealth on climate change action. Dr Hon. Shirin Sharmin Chaudhury MP, Speaker of the Parliament of Bangladesh, shared good practice on adaptation from one of the most climate vulnerable countries in the world. Watch above. 
Finance for Developing Economies 
The third key goal of the UK Presidency of COP26, as described by Mr Topping, is to secure a hundred billion dollars a year for emerging and developing economies to transition to sustainable economies. However, Mr Topping emphasised that this is not enough, calling for 130 trillion dollars to replace all fossil fuels infrastructure by 2050. In a further panel, Clare Hamilton, Peers for the Planet, emphasised the need for more green financing. Ms Hamilton argued that COVID-19 presents a chance to build economies back better, but just 18% of recovery spending post COVID has gone into green investment.
 Advisor in Global Partnership and Strategy, World Bank, spoke about recent grant funding from the World Bank which has supported governments in Antigua, Barbuda, Zambia and Mozambique.
In the domestic sphere, Dr Atiur Rahman, Development Economist and former Governor of the Bank of Bangladesh talked about the proactive role that central banks can play in stimulating green finance. Taking the example of the Bank of Bangladesh, Dr Rahman shared the following examples of green financing, which are inclusive and both socially and environmentally responsible: 
50 million USD for the financing of green energy into GPD biogas technology.
A long term 500 million USD transformation fund has been created to support the textile and leather industries.
State owned companies encouraged to procure more than 4 million for solar home systems, biogas, solar irrigation along with conventional energy.
Public recognition to the financial institutions providing sustainable finance and partnership incentives; central banks can work together on this to provide incentives. 
To access finance, delegates were encouraged by Unnikrishnan Divakaran Nair, Head of Climate Change, Commonwealth Secretariat, to make use of the Climate Finance Access Hub which has supported more than 14 member countries to access around 42 million USD  of climate finance. 
Driving Collaboration 
As a Commonwealth community, speakers and delegates reflected throughout the day on how they can best work together to achieve collective climate goals. Delegates were encouraged by Mr Topping to model solidarity across the diversity and geography of countries, and Hon. Stiell called for the Commonwealth to "speak with one voice". Hon. Josaia V Bainimarama, Prime Minister and Minister for iTaukei Affairs, Sugar Industry and Foreign Affairs, Fiji, advocated for high level action delcaring that "everyday our multilateral system disregards the reality, the cost of our climate vulnerability rises, as do the stakes of inaction". 
Those most heavily impacted by climate change, notably Small Island Developing States (SIDS), were empowered to work together to establish their moral authority by Mr Topping. For example, at Paris 2015, Caribbean Islanders used the phrase "1.5 to stay alive," referencing the existential dangers that global warming has on SIDS. Speakers from SIDS advocated for these countries having a more established seat at the table. Hon. Stiell stated that although SIDS as a percentage of the total number of parties within COP are about 25%, "too often SIDS have to struggle to be heard and to have their issues given due consideration beyond mere lip service". Dr Pickering, however, noted that this has been changing with the UK inviting UKOTs to be part of their official delegation at COP in 2018. Resources available for SIDS to learn from one another were raised, such as through the Association of Small Island Developing States or the Alliance of Small Islands. Emily Davies from CPA HQ also signposted delegates from SIDS to CPA HQ's climate change in small states toolkit. Larger economies, such as the UK, were urged by Ms Boyack MSP to share technological resources on renewable energy such as wind and solar power. Whilst Dr Rahman described how research and knowledge generation from the Bangladesh Climate Trust Fund will be shared at COP. 
As part of a Roundtable with Youth Delegates, chaired by Baroness Blower, parliamentarians were also challenged to work with young people on these issues. Anoka Primrose Abeyrathne, Co-Founder of Growin' Money and Policy and Advocacy Lead - Commonwealth Youth Climate Change Network, Asia Pacific Representative and Daisy Chapman-Chamberlain, Commonwealth Youth Parliamentarian, advised parliamentarians to move away from communication frameworks with a rigid structure and harness the power of social media, such as  WhatsApp. Fontoh Desmond Abinwi, Commonwealth Youth Climate Network, National Coordinator of Cameroon, summarised this point by stating, "we live in a digitalised world, and social media is an inclusive, participatory platform that can engage young people in a way that other platforms can't". Politicians were also urged to support more projects from the grassroots, often with young people at the helm. Leneka Rhoden, Commonwealth Youth Climate Network, Pan Commonwealth- Co-ordinator, highlighted the mutual benefits for young people and politicians having direct ways to contact and advise one another, stating "parliamentarians need young people as much as the other way around". Finally, parliaments can empower young people to act by establishing institutions such as the Seychelles National Youth Assembly, of which Angelique Pouponneau, CEO, SeyCCAT Executive Team, was a member.
---
Influencing and Negotiating
Influencing and negotiating are important skills in the context of global climate action. Delegates at the Forum were trained to cultivate influence by building valuable partnerships with key stakeholders. These interactive sessions centred on the importance of listening to fully understand the needs of others and clearly communicating solutions.
Using further negotiation strategies such as reason, power, and creativity delegates were guided on how to utilise their influence to narrow the gap between current climate situations and the ultimate goals. These key learnings will enable delegates to be aware of blockers and contribute to global discussions with confidence and clarity.