Climate Forum Report - Acting on Climate Change: The Role of Parliamentarians
Day Two of the pan-Commonwealth Climate Forum focused on practical ways in which delegates can encourage action through their parliamentary systems. Speakers shared their expertise regarding the role parliamentarians can play to ensure government accountability and provide a necessary knowledge link with constituents. Both aspects are important in ensuring a resilient response to climate change.
---
Climate 
L
ens
A
cross
 a
ll 
P
olicy
The Rt. Hon. the Baroness Hayman GBE, Co-Chair of Peers for the Planet, highlighted that "climate change is the crisis of our age, and we will be judged by future generations on how we respond to it". This notion was the impetus behind the creation of Peers for the Planet. This parliamentary grouping brings together peers in the House of Lords to advocate for a climate lens to legislation by participating in debates, raising questions and delivering briefings. Peers for the Planet have successfully aligned the actions of the UK Pensions Bill with the Paris Agreement and highlighted the climate risks associated with financial investments in the Financial Services Act. Mohamed Nashiz MP, Chair of the Maldives Public Accounts Committee, also emphasised that "climate policy is a central and cross-cutting theme for all areas, all sectors should therefore factor in climate resilience". Speaker of the Fiji Parliament, Hon. Ratu Epeli Nailatikau, explained that integrating climate considerations within wider government ministries has not been easy", but through trial, monitoring and adjusting, Fiji has combined the climate and the economic ministries" to produce positive results. Hon. Dr Gideon Ochanda Ogolla MP, Chair of the Parliamentary Caucus on Sustainable Development Goals & Business from the National Assembly of Kenya, emphasised the importance of linking the priorities of healthcare, housing, poverty and industrialisation, to climate change. This holistic relationship must be then de-escalated from the national level to the local level and understood in the community. An example of this was given by Dr Ogolla, who explained that his caucus works with civil societies and has brought issues of environmental green bond taxes and carbon credits to the attention of the government. As a result, green initiatives within the Kenyan business community are now taxed less to support a clean environment.   
---
Environmental 
Allies for
 Parliamentarians and
 Policy Makers
Panelists at both Forums provided practical ways in which parliamentarians can keep their governments accountable. The Lord Teverson from from the UK House of Lords emphasised that, although climate policy provides clear positive action, parliamentarians often find policy "easy to agree on, not so easy to make sure you're fulfilling it". Using the example of achieving net zero, Lord Teverson suggested three practical approaches for parliamentarians: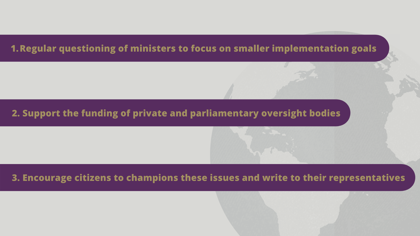 Janet Finch-Saunders MS/AS, Shadow Minister for Climate Change, Energy, and Rural Affairs, Welsh Senedd, reiterated the importance of parliamentary questions, arguing that "the standard of scrutiny could be further improved should there be parliamentary sessions dedicated to more specific areas of ministerial responsibility".  Darren Jones MP, Chair of the UK Business, Energy and Industrial Strategy Committee, highlighted that committee chairs across the House of Commons have worked together to set up monthly COP Q&A sessions with the UK COP 26 President-Designate Rt Hon. Alok Sharma MP. These sessions use evidence from stakeholders to make recommendations and clarify domestic delivery. As the complicated transition to net zero is scrutinised, select committees in the UK work with both the private sector and regulatory bodies to translate evidential findings into business plans.  
Private Members' Bills are an additional instrument available for parliamentarians. In a Private Members' Bill, Baroness Sheehan, The Science and Technology Committee from the House of Lords UK, demonstrated contradictions between the UK climate commitments and the extraction of fossil fuels embedded into UK legislation. As a result, the UK Government has said it will stop supporting fossil fuel projects abroad. 
Clerk of The Environmental Audit Committee (EAC), Mr Martyn Atkins, reiterated the importance of environmental policy scrutiny and signposted the work of the EAC as a tool for delegates to consider. Mr. Atkins used the example of energy efficiency to inform delegates that "the EAC aims to address the how, for example regarding energy efficiency, how are supply chains developed, how are householders are to be incentivised, how are the sectors to be upskilled". The EAC audits government departments against targets set by their ministers and has the express remit to consider how government department policies contribute to environmental protection and sustainable development.  
Independent backbencher and Chair of the Jersey Public Accounts Committee, Deputy Inna Gardiner advised parliamentarians to consider following her eight-step scrutiny process.  Deputy Gardiner successfully used this method to table and implement a ban on single-use bags in Jersey.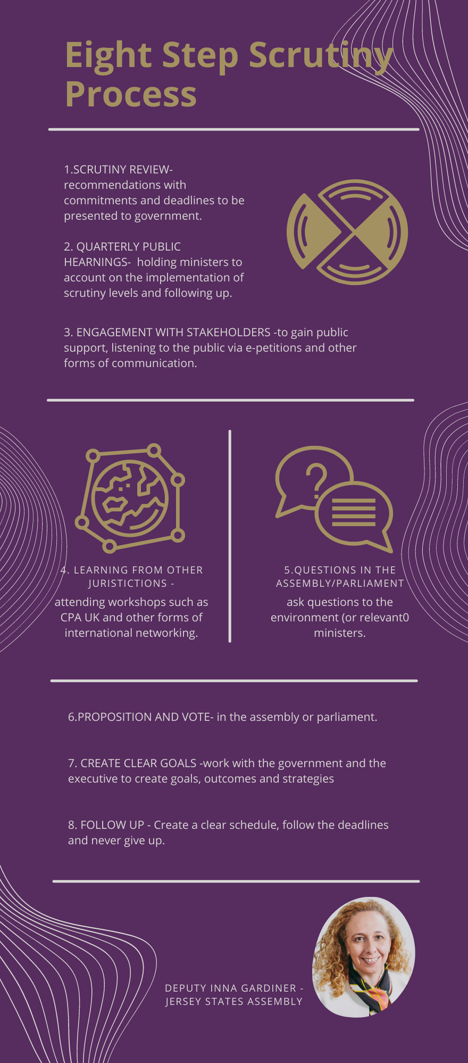 ---
Using Fact to Influence Agendas 
Professor Corinne Le Quéré, a Royal Society research professor of climate change, Chair of the French Haut conseil pour le climat and member of the UK Climate Change Committee, explained that Independent Climate Committees can support parliamentarians by providing robust evidence, focussing issues and aiding with public acceptance. Former MP, Dr Kennedy Graham from the New Zealand Institute for Governance and Policy Studies, highlighted that independent climate change committees have been established in eight countries and several other nations have broader environmental or sustainable development goal committees, which include climate change in their remit. Chairman of the UK Climate Change Committee Lord Deben explained that this provides parliamentarians with advice and enables the governments to say, "this is not a party-political decision, it is based on the best science". In the UK, climate change legislation is a statutory necessity, meaning the government can be sued in the courts for failing to meet the obligations set out by the Climate Change Committee. This was echoed by Mr Nashiz as he reminded delegates that, "accountability for legal frameworks within green policies is critical to allow for legal action to be pursued in the case of non-compliance with climate action plans". 
As Dr Kennedy Graham explained, not all policies are created equal. He argued that "success in global climate policy depends on national policy cohesion". This in turn depends on broad cross-party consensus, a common denominator of ideology, and evidence-based policy. Delegates raised the challenges of bringing parties together, as there are some sections of society who do not recognise the facts of climate change. Lord Deben suggested that delegates could highlight the various financial institutions, private sector businesses and conservative global leaders that are making strides in climate change matters and remind parliamentarians that "parliament must set the terms by which it operates, but it is the market that will deliver the goods on climate change". All nations, with their common but differentiated responsibilities and circumstances, can utilise evidence to identify effective climate solutions.   
Parliamentarians can access many evidential findings through parliamentary libraries and research units, such as the UK Parliamentary Office of Science and Technology (POST). POST produces research briefings, assesses trends, and works with select committees and libraries to help scope enquiries. Their impartial findings, 'Post notes,' are made publicly available on their website and are designed to be accessible worldwide. Senior Policy Advisor at POST, Mr Jack Miller, encouraged parliamentarians to learn from other countries as to how research findings can translate into societal benefits. The Australian Engagement and Impact assessment framework is one example; the Australian Research Council used this framework to publish its inaugural national assessment report in 2019. If MPs feel an organisation like POST would be helpful in their legislature, it is in their power to establish one. Mr Miller encouraged delegates to speak to their universities and research institutions.  
---
Video Spotlight –

 

By facilitating dialogue between legislatures, parliamentarians can share good practice and broaden cooperation for climate action (Eugine Sage MP & Scott Simpson MP) Watch Here
Video Spotlight –

 By advocating on behalf of those they represent, parliamentarians can forge collaborative policies that have been informed by their citizens. (

Jodie Harrison MP) Watch Here
---
Space at the Table 
Hon. Ogolla explained that, when driving further momentum for domestic environmental change in Kenya, parliamentary groupings face a key challenge; climate action is not yet a citizen or government priority. He emphasised that, if climate action is to advance as a primary consideration in developing nations, parliamentarians must inform their communities, share findings and push for direct discussions with citizens. Many other Commonwealth nations have seen varying levels of climate change conviction amongst their citizens. Hon. Andleeb Abbas, member of the Climate Change Committee in Pakistan shared the same difficulties, saying that "our (previous) government saw climate change legislation as a luxury" and that "people don't vote for trees". She explained that, despite the low priority of the environment, passion and dedication can inspire big positive changes. Progress has been made in Pakistan through cross-party collaboration, public education and the provision of 100,000 green jobs for women and the underprivileged. The Prime Minister of Pakistan successfully launched the "Billion-Tree Tsunami" to combat de-forestation in the nation. Hon. Abbas expressed that "compassion with passion was central to our success". 
Strong and consistent communication on climate change is crucial if citizens are to accept the urgent need for action. Mr Miller from POST reminded delegates to advocate for climate action by pointing out win-win opportunities, saying "this will enable people to see these changes as something meant to help them, not as something unpleasant that will have to be inflicted".  Environmental democracy adviser at the Westminster Foundation for Democracy (WFD) Rafael Jiménez-Aybar reminded delegates of the UN framework that recognises the importance of engaging citizens in climate change; Article 6 of the Action for Climate Empowerment (ACE). Community engagement can create a virtuous circle where empowered citizens empower governments back, creating the sustained participation of leaders for climate action. The UK Climate Change Assembly is an example of knowledge sharing with the public and allowing space for voices to be heard. Sarah Allan, Project Lead for the UK Climate Citizens' Assembly shared the structure and key learning from the Assembly.  
Addressing the needs and concerns of minority communities within these forms of citizen outreach is crucial. Canadian Minister of Infrastructure and Communities, Hon. Catherine McKenna PC MP, highlighted the disproportional impact that climate change is having on native communities and other marginalised groups, since their distinct visions, concerns and ways of life can be ignored by policy makers. She highlighted that these communities need to be represented at the policy making table and legislation should be designed in collaboration with them.