Maldives visit highlights Public Accounts Committee planning
Published 20 May 2022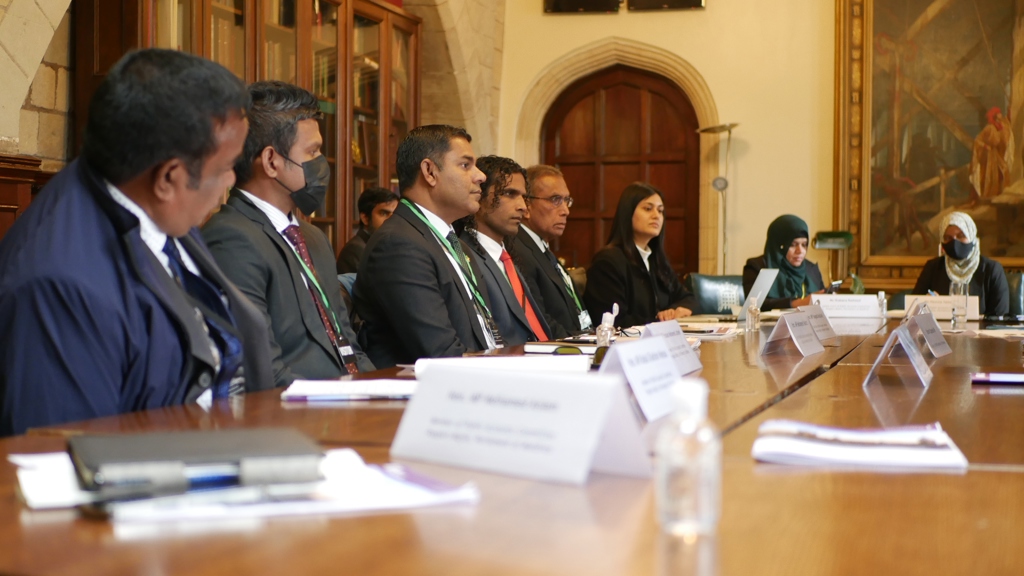 Planning for committee hearings was at the forefront of discussions as CPA UK welcomed a delegation from the Maldives Public Accounts Committee & Auditor General's Office to Westminster from 25-28 April.
The 17-member delegation consisted of parliamentarians and clerks from the Public Accounts Committee (PAC), as well as the Auditor General and his staff.
Over the course of four days, the delegates engaged with their counterparts in the UK's PAC and the National Audit Office (NAO), exchanging valuable insights on topics first identified by the Maldives delegation in the November 2021 PAC Scrutiny Workshop.
In Westminster, the Maldivians took part in a planning exercise that equipped them with practical experience of how their UK colleagues prepare for a committee hearing. They also had the opportunity to observe a UK PAC hearing in person, which focused on the British Steel Pension scheme.
These sessions shed light on the extensive planning that takes place prior to a hearing of the UK PAC, a feature that delegates were eager to incorporate into the operations of their own committee. One specific action identified to further this goal was the introduction of private pre-hearing meetings between the Auditor General and the PAC, so that members have the information necessary to prepare effective and incisive questioning for witnesses in advance.
In a unique exchange, clerks and Auditor General's officials visited the NAO to gain a deeper knowledge of its role in supporting the UK PAC.
To conclude the programme, Parliamentarians visited the Richmond Park constituency in South London, where they learned more from Sarah Olney MP on the role of a local MP, as well as touring the Royal Botanic Gardens at Kew. Viewing this iconic conservation project sparked active discussions of the climate emergency, which poses an existential threat to Small Island Developing States such as Maldives.
Whilst in London, the delegation marked the holy month of Ramadan by joining an Iftar at the Suleymaniye Mosque, located in Dame Meg Hillier MP's constituency of Hackney South and Shoreditch.
Delegates were active in engaging with the programme, and in identifying areas where shared learning will be applied to future activities of the Maldives PAC.
Chair of the Maldives PAC, Hon. Mohamed Nashiz said:
"I wish to thank CPA UK for bringing the Maldives PAC together with key stakeholders from the UK PAC and its Parliament. This forum has provided us with invaluable practical experience tailored to the issues affecting our committee, and renewed the friendship between our two legislatures following Maldives' return to the Commonwealth family."
Vice-Chair of the UK PAC, Sir Geoffrey Clifton-Brown MP said:
"It was a pleasure to host Maldivian delegates in the UK Parliament for this Study Visit, which showcased the excellent working relationship between our two PACs. The exchange of knowledge that took place will be essential to the continuous improvement of PAC scrutiny in both countries. I look forward to achieving even more through our continued collaboration."
---
Members of the Maldives delegation share their highlights and key takeaways: