Lessons on the road to resilience: How Commonwealth parliamentarians can support future pandemic preparedness
Published 19 July 2021
CPA UK interviewed Baroness Eluned Morgan, Minister for Health and Social Services in Wales, and 

Bambos

 Charalambous MP, chair of the All-Party-Parliamentary Group (APPG) for Future Generations in the UK.

 

This article

 shares insights from these two experienced parliamentarians and outlines the published commitments of the UK Government and the G7, to

 advance future pandemic preparedness.
---
As the world continues to battle the COVID-19 pandemic, expert analysis of the global response has raised the importance of a general form of pandemic resilience. A resilience that prepares nations for a variety of outcomes rather than a specific set of parameters. This aligns with the priorities of the 2021 UK G7 Presidency: "leading a global recovery from the coronavirus while strengthening resilience against future pandemics".
Baroness Eluned Morgan highlighted the importance of using science to inform future responses. She explained that "when the global community is faced with coming challenges, whether they are subsequent pandemics or public health challenges, such as obesity or climate change, the response must be informed by science." The Members of the Group of 7, hosted by the UK Government, further emphasised the importance of scientific innovation to develop global resilience. In their shared statement for Global Action to Build Back Better, members stated that "it is essential that we maintain and build upon the extraordinary innovation, scientific power, and collaboration that we have seen in the response to this pandemic" (G7 Leaders 2021).
Bambos Charalambous MP emphasised the importance of informing future responses with science and evidence in the form of risk assessments. He explained that whilst looking at past events can be a useful approach for evaluation, high-uncertainty risks, like those of future pandemics, must be identified by "considering low-probability risks, emerging risks, and risks beyond those observed in the recent past." Mr Charalambous signposted techniques such as, "red teaming*, tabletop exercises,* and discussions with a broad range of experts" to assist risk assessors when forming a general form of future resilience that includes high-uncertainty risks.
An essential basis for the fight against future pandemics is data; data that includes genomic surveillance* of human and animal infections in collaboration with a range of scientific and academic partners. Lady Morgan described that "this pandemic has provided a paradigm for surveillance, the rate and scale at which systems have been started or extended has been breath-taking. We have never observed an emerging pandemic in such high definition."
The UK government has suggested a global network of zoonotic research hubs* to recognise "new pandemics before they begin, by identifying pathogens before they leap from animals to humans" (HM Government 2021). However, there is inequality in global access to scientific findings particularly for Low- and Middle-Income Countries (LMICs). Noting that "surveillance hasn't been perfect in all areas", Lady Morgan signposted three pandemic preparedness boards that could address data inequality and propose improvements in international public health.
These include:
 The UK government is also calling for a new, global approach to pandemics with "further international cooperation on vaccine distribution and finance, while strengthening the world's resilience against future pandemics." (HM Government 2021). The members of the Group of 7 echoed the importance of building on commitments to international cooperation and multilateralism stating that an "open and resilient international order is in turn the best guarantor of security and prosperity for our own citizens." (G7 Leaders 2021).
This pandemic has highlighted multiple examples of deep-rooted global inequalities, affecting all, but felt most by those who are already disadvantaged. As Lady Morgan outlined, "there are some trends and features in our recent past that we do not want to return (to)". Tackling these challenges with a focus on human development, rather than solely economic growth, is central to increasing a general resilience.
Mr Charalambous echoed Lady Morgan's sentiment as he expressed his hopes for a global shift in the measure of a country's success. He aspires to a future where "thinking involves a willingness to imagine a different way forward", with a global shift in the measure of a country's success: a shift away from just gross domestic product and economic production (GDP) to include human development and citizens' wellbeing. He signposted New Zealand's Living Standards Framework approach as one of the most celebrated global examples. "This framework captures information and measures 'progress' across several areas of wellbeing. From housing to health, social connections to knowledge and skills". In the Spring 2021 COVID19 Response report, the UK government also outlines plans for a "multi-sectoral approach…all Departments and partners are critical to a response and will continue to improve resilience for any future pandemics." (HM Government 2021).
Mr Charalambous explained that his Future Generations APPG is working alongside Carnegie UK to "reset and rebalance priorities, and to create real, transformational change, both by measuring what matters and using this evidence to inform policy making". Removing barriers and improving the lives of all citizens was stressed by both interviewees as vital steps as the global community moves towards resilience. 
*GLOSSARY
Red teaming is the practice of rigorously challenging plans, policies, systems, and assumptions by adopting an adversarial approach. Finding security issues by simulating attacks.
Tabletop exercises are discussion-based sessions where members meet in an informal setting to discuss their roles and responses during an emergency.
Genomic surveillance is a tool for pathogen identification and evolution tracking.
Zoonotic research hubs study diseases and infections that can transmit between vertebrate animals and humans.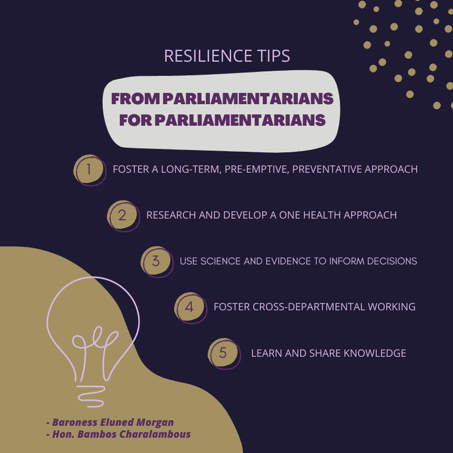 ---
| | |
| --- | --- |
| | Baroness Eluned Morgan is the Minister for Health and Social Services in Wales. She was granted a peerage in 2011 and is formally known as Baroness Morgan of Ely. Eluned Morgan has served as the Shadow Minister for Wales in the House of Lords and Shadow Minister for Foreign Affairs. She was elected to the Welsh National Assembly in 2016 as regional member for Mid & West Wales. Since this election, Eluned has experience as the previous Minister for Welsh Language and Lifelong Learning and as the previous Minister for International Relations and the Welsh Language.   |
| | Bambos Charalambous MP is the Member for Enfield, Southgate, UK and currently undertakes the role of Shadow Home Office Minister for Immigration. Originally from Cyprus, Mr Charalambous is the current Chair of the Future Generations All Party Parliamentary Group (APPG) and has previous experience as a solicitor.  |