CPA UK Sends Delegation to the 2023 Commonwealth Parliamentary Conference in Ghana
Published 17 October 2023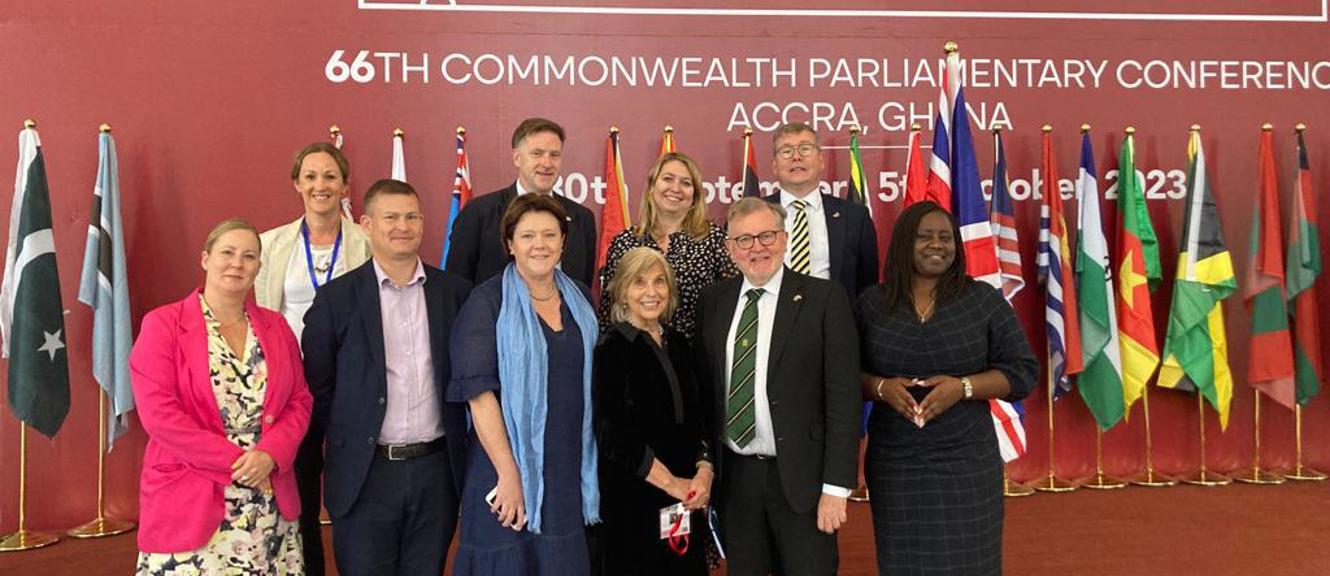 A delegation of UK parliamentarians represented CPA UK at the 2023 Commonwealth Parliamentary Conference held in Accra, Ghana, in October 2023. They were led by CPA UK Chair Dame Maria Miller MP, with representatives from the three largest parties plus a cross-bench Peer. 
The Conference was opened by the President of the Republic of Ghana HE Nana Addo Dankwa Akufo-Addo, who urged Commonwealth parliamentarians to mark the 10th Anniversary of the Commonwealth Charter by recommitting to its values and principles.
You can read more about his speech here: CPA Vice-Patron opens CPA annual conference in Ghana (cpahq.org) 
CPA UK's delegates participated in a busy programme of workshops covering a range of topics. Rt Hon. Karen Bradley MP chaired a lively and interactive youth roundtable at the Parliament of Ghana on the role of the Commonwealth in international security and peacebuilding. CPA UK delegates made important contributions to workshops on gender quotas in Parliament and on the Commonwealth Charter and its commitment to protecting human rights. 
The Conference was preceded by governance meetings, at which the key issue of CPA's legal status was at the centre of deliberations. CPA's status as a UK charity has been a long-term concern to many member branches. CPA's agreed aim has been a change of status to that of an international interparliamentary organisation through UK legislation. The Government has now acknowledged that the issue can only be resolved through a legislative route and says that processes are underway to ensure that this happens.  
At the General Assembly delegates welcomed this progress but agreed to set a deadline of the date of the next CPA international Executive Committee meeting in April 2024 for the legislation to be in place. The meeting also agreed to CPA taking forward parallel processes of inviting expressions of interest from other Commonwealth jurisdictions to host the CPA Secretariat, should the UK legislation not be passed, and setting up a new non-charitable body into which future CPA membership fees would be paid. CPA Chairperson Ian Liddell-Grainger MP and CPA UK Chair Rt Hon. Dame Maria Miller MP have played key roles in making CPA's representations to the UK Government. Both spoke at the General Assembly to affirm CPA UK's commitment to driving forward CPA's change of status and to do everything in their power to make it happen, as had Chris Elmore MP at the CPA Executive Committee, on which he is the UK's representative, earlier in the week. 
Further information about the 66th Commonwealth Conference can be found in the Concluding Statement. 
Whilst in Ghana CPA UK's delegates held a series of meetings with Ghanaian parliamentarians and others to learn about the current political, economic and social landscape. With elections in Ghana due in 2024, the UK delegation met Members of Parliament from both the Majority and Minority parties, who shared views on current political issues as well as longer-term plans and aspirations.   
Human Rights was a key topic of discussion, with the UK delegation expressing concerns about an anti-LGBTQ+ Private Members Bill that has passed its second reading in Parliament. During a series of meetings, the UK delegation unanimously asserted its commitment to fundamental human rights and equalities as set out in the Commonwealth Charter, which meant that no one should ever be treated differently regardless of gender, sexuality, race, religion, political belief or other characteristic.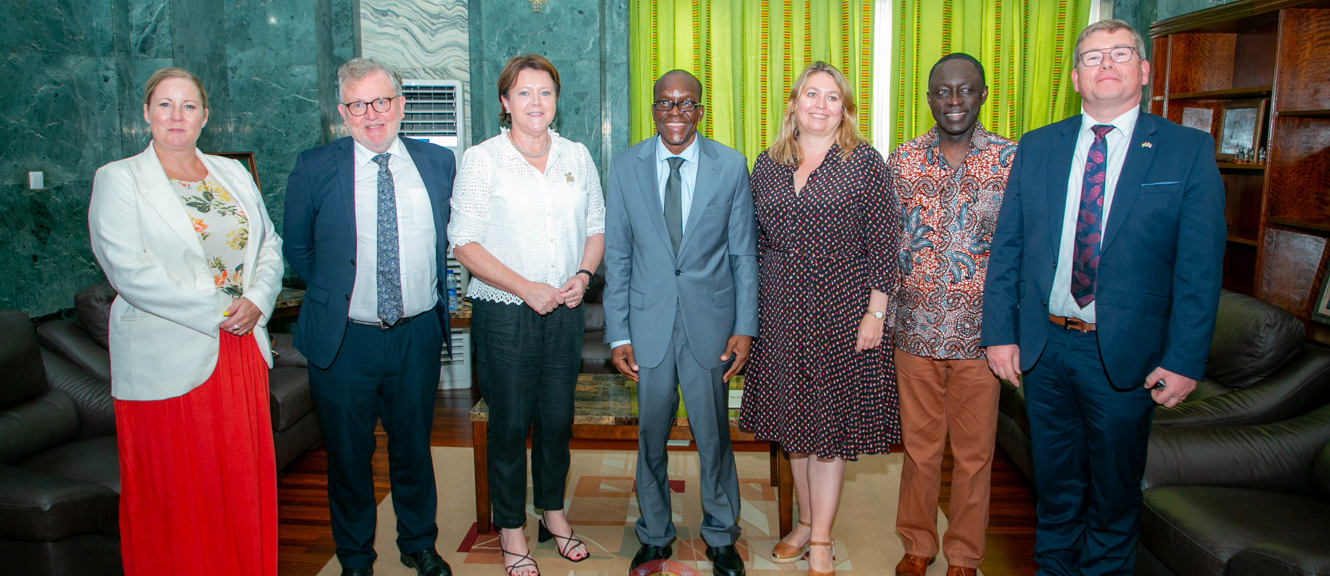 After the Conference the delegation called on the Speaker of Parliament, Hon. Alban Bagbin to convey their appreciation and to congratulate him and the staff of the Parliament of Ghana for hosting such a successful Conference. Discussion centred on the importance of continued collaboration between the two parliaments and potential areas for future engagement.  
Whilst in Ghana CPA UK delegates also visited the Commonwealth War Graves cemetery in Accra. During a short ceremony Dame Maria Miller MP laid a wreath of remembrance to those laid to rest or memorialised in the cemetery. The Ceremony was attended by four surviving veterans of the Second World War.