CPA BIMR - Election Observation Training
Published 22 July 2019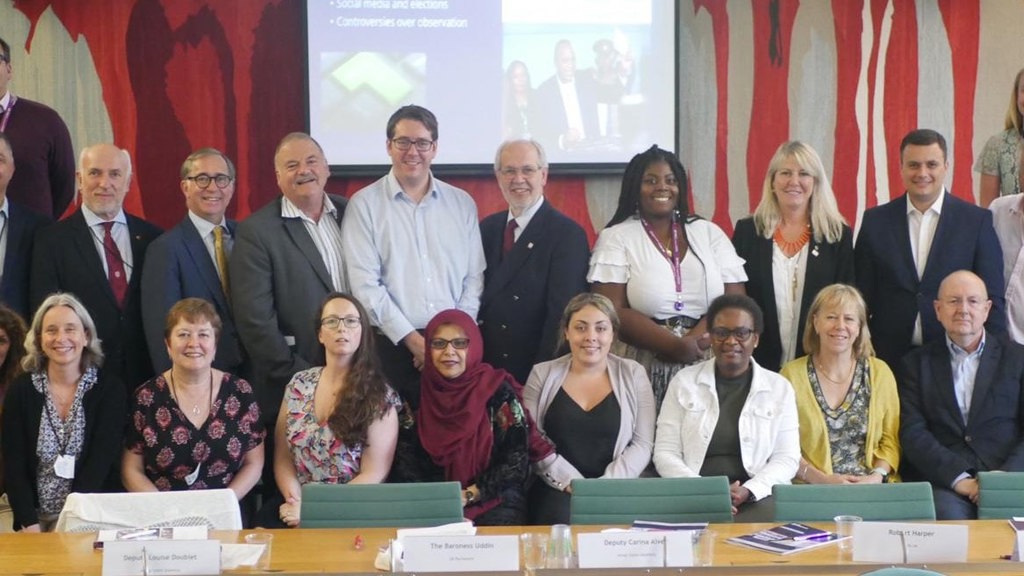 From 18-19 July 2019 CPA UK hosted a two-day election observation programme for 28 parliamentarians from across the CPA's British Islands and Mediterranean Region (BIMR) and CPA UK staff. The programme explored the history and international standards of election observation and offered practical insights and advice to participants considering applying to join election observation missions.
Article 25 of the International Covenant on Civil and Political Rights (ICCPR) featured heavily on the first day of the programme, as did the Organisation for Security and Co-operation in Europe (OSCE) 1990 Copenhagen Document which broadened the scope of human rights matters to include election commitments. More recent universal and regional instruments discussed included, for example, the 2003 United Nations Convention against Corruption (UNCAC) and the 2007 African Charter on Democracy, Elections and Governance. A session to identify key election stakeholders at different electoral phases followed by presentation of detailed case studies and personal accounts closed the day.
The second day examined EOMs as conducted by CPA BIMR more closely, and explored the work and conduct expected of short-term (STO) and long-term observers (LTO). This included an introduction to the forms completed by STOs and LTOs when observing polling stations, and an interactive exercise to practice drafting recommendations. In preparation for this participants observed and voted in two mock polling stations, identified incorrect or inconsistent procedure, and suggested improvements in line with international good practice.
Holly Ruthrauff, an experienced trainer of election observers and election expert with 20 years' experience promoting the integrity of elections, led the training sessions at the UK Parliament in Westminster. She has organised and participated in election observation missions in over 20 countries and provided capacity building for citizen observers worldwide. The 18 participating parliamentarians joined the training from the UK Parliament, the Scottish Parliament, the National Assembly for Wales, the States of Alderney, the Jersey States Assembly, the Parliament of Malta, and the House of Keys on the Isle of Man.
Election observance expresses the Commonwealth's interest and concern in promoting democratic elections within its wider policy of support for democracy, the rule of law and human rights. As part of its commitment to strengthening democracy and good governance, CPA UK, in its role as secretariat for CPA's British Islands and Mediterranean Region (BIMR), carries out and supports election observation missions across the Commonwealth.
Since 2010 CPA UK has organised short-term Election Observer Missions (EOM) and Election Assessment Missions (EAM) and has supported organisations in sourcing observers to participate in missions across the Commonwealth. Find out more about our work in this area here.